Process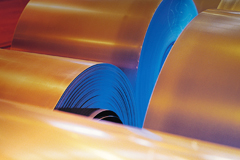 POSCO produces electro galvanized steel coated with pure zinc or zinc-nickel, and is being produced by advanced facilities with state-of-the-art-technology. The products shows excellent corrosion resistance, weldability and formability.
Electro galvanized steels are widely used for automobiles and home appliances and applications are expanded to construction interior materials and metal furniture.
To enhance the quality and versatility of its electro galvanized steel, POSCO engages in constant R&D efforts to develop high end materials.
Electrical Galvanized Steel Manufacturing Process
In order to deliver quality products, meeting customer's requirements, POSCO is equipped iwth the latest fully-automated computer controlled cutting edge facilities and technologies. These tools guarantee products of the highest precision and quality for our customers.