Process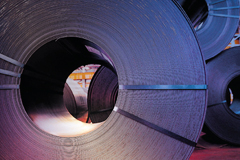 Hot-rolled steel products are divided into two groups: hot-rolled coils produced by hot strip mill and hot-rolled steel plates, which are made by cutting material from hot-rolled coils. Some of the hot-rolled coils produced at our hot-rolling plants are sold as finished products while others are used as intermediary materials for cold-rolled or electrical steel production, thus being reprocessed into high value added products. Hot-rolled steel products are widely used in many different industries due to their high strength as well as good weldability, machinability and corrosion resistance. In order to deliver quality products, meeting customer's requirements, POSCO is equipped iwth the latest fully-automated computer controlled cutting edge facilities and technologies. These tools guarantee products of the highest precision and quality for our customers.
Hot Rolled Steel Manufacturing Process
POSCO produces a variety of hot rolled steels according to the KS, JIS, EN and ASTM standards, as well as POSCO's own-branded new products.