Process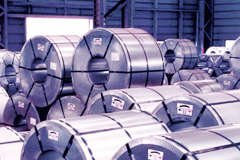 Besides its superior quality in weight, strength and corrosion resistance, titanium is a non-toxic, environment-friendly metal. As a global leading steel company, POSCO is creating another success story in titanium industry.
Titanium Manufacturing Process
Combining our world-best manufacturing technology in steel & stainless steel, POSCO is now producing titanium products of the best quality. In addition, POSCO will complete the vertical integration to slab production by 2014, and this will provide our customers with more reliable supply of titanium products.