Overview
Solution
A combination of High Performance Steel (Hardware) and Application Technology, Commercial Support, Heart-to-Heart Relationship (Software)
Solution Marketing
Activities that create customer value and increase the sales of world premium steel by providing  "solutions" to customers.
POSCO wishes to provide higher values and opportunities to its customers by taking a preemptive response to potential needs and offering differentiated services. The core of POSCO's solution marketing lies in the answer to the question, "How can we contribute more to customers?" POSCO's aim is to find the way to grow with customers through solution marketing, which is accomplished by the convergence of marketing and technology

POSCO's solution marketing largely consists of three parts (Technical Solution, Commercial Solution and Human Solution).
First is Technical Solution.

Technical solution is defined as "activities that support customers with the development of parts or final products using application technology"

Second is Commercial Solution.

Commercial solution is defined as "activities that support the creation of customer's commercial value beyond normal business activities"

The last part of solution marketing is Human Solution.

Human solution is defined as "activities that earn the customer's trust by forming an intimate relationship"
Technical Solution
Example: Lotte Super Tower, Lotte E&C
Lotte Super Tower is a super-high rise complex building. Standard roll H-beam member was customized into a build-up plate for the customer, and POSCO suggested an alternative design to change the core wall material from 570MPa steel to 800MPa steel. The client reduced was able to reduce the amount of steel used by 30% and improved construction efficiency by 30%.

Commercial Solution
Example: Downstream business with Austem
Austem is a leading parts maker of Korea that supplies chassis, wheel and frame parts to OEMs like GM and Volvo. It was seeking for business expansion to China but had difficulties securing land for plant and customers. POSCO founded a joint venture with the client through equity investment and supported the client by taking orders on automobile chassis parts with our Chinese clients such as Shanghai GM and Volvo. Business of the client in China was continuously expanded and will reach 5 regions by 2017. Demand for steel material will be increased from 23,000 tons in 2013 to 105,000 tons in 2018. We form win-win relationship with customers through such commercial solution that helps expand the scope of business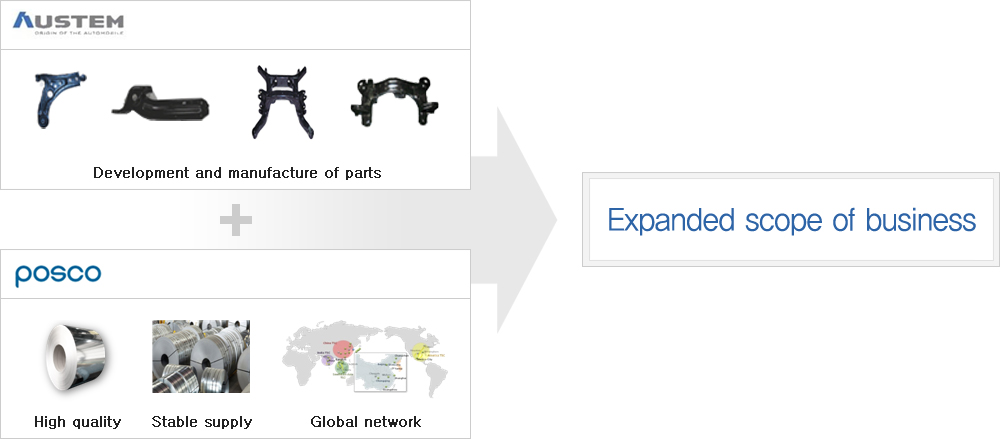 Human Solution
What is human solution?
Human solution brings the feeling of trust, comfort and assurance toward POSCO to its clients, reaching beyond technical solution and commercial solution. POSCO strives to maintain a positive relationship and provide best services to its customers. POSCO disposes its employees throughtout the globe to better understand its overseas customers' needs. In order to maintain the level of high quality customer service, POSCO runs training programs for its employees to manage and enhance their abilities to satisfy customers. Such activities are the steps to become a total solution provider that combines technical solution, commercial solution and human solution.